We are thrilled to announce that registration for CTC-RI's highly anticipated Annual Conference is now open! We invite you to join us for this exciting event focused on transforming RI primary care and to better integrate health equity into our primary care settings.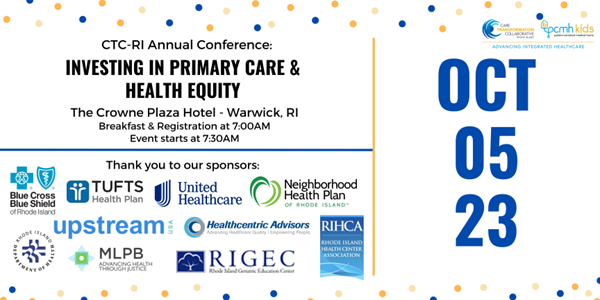 Date: October 5, 2023
Registration & Breakfast: 7:00AM
Event Start: 7:30am
Location: The Crowne Plaza Hotel 801 Greenwich Ave, Warwick, RI 02886
Registration via Eventbrite now!
The Annual Conference will bring together a diverse group of healthcare professionals, researchers, and stakeholders committed to driving positive change in our state's healthcare landscape. This year's conference theme is "Investing in Primary Care & Health Equity" reflecting our collective efforts to improve the quality, accessibility, and affordability of primary care services and advance health equity.
Why attend?
Gain Insights: Engage with renowned keynote speakers, industry experts, and thought leaders who will share their expertise and provide valuable insights into the latest trends, innovations, and best practices in healthcare transformation.
Collaborate: Network and collaborate with like-minded professionals from various sectors, including healthcare providers, payers, community organizations, and exhibitors. Share ideas, discuss challenges, and explore opportunities for collaborative initiatives.
Educational Sessions: Attend a wide range of educational sessions, interactive workshops, and panel discussions addressing key topics such as care coordination, population health management, technology integration, policy advancements, and more.
Learn from Success Stories: Discover real-world success stories and case studies highlighting transformative initiatives that have positively impacted patient care, health outcomes, and the overall healthcare ecosystem.
Stay Informed: Stay up to date with the latest advancements and initiatives in Rhode Island's healthcare landscape, including updates on value-based care models, alternative payment arrangements, and population health strategies.
Additionally, CTC-RI will be offering 50 spots for the NCQA Health Equity Accreditation training at our annual conference. NCQA's Health Equity Accreditation gives health care organizations—including health plans, managed behavioral healthcare organizations, health systems, hospitals and wellness and population health programs—an actionable framework for creating the structures and processes to begin working toward addressing health equity. Organizations that earn Health Equity Accreditation will be better positioned as high-quality business partners with an ongoing commitment to health equity. Attend this in-person session to gain in-depth knowledge from the architects of the new NCQA Health Equity Accreditation program and the developers of the new standards. For organizations interested in learning more about the Health Equity Accreditation standards and guidelines, this session is an opportunity to hear more about the program and its requirements, and ask your questions live. Learn more here.
Registration: To secure your spot at CTC-RI's Annual Conference or the NCQA Health Equity Accreditation Training, register here. Early registration is recommended, as spaces are limited.
We encourage you to share this announcement with your colleagues and industry peers who may benefit from attending this premier healthcare event. We look forward to welcoming you to CTC-RI's Annual Conference and joining forces to shape the future of healthcare in Rhode Island!