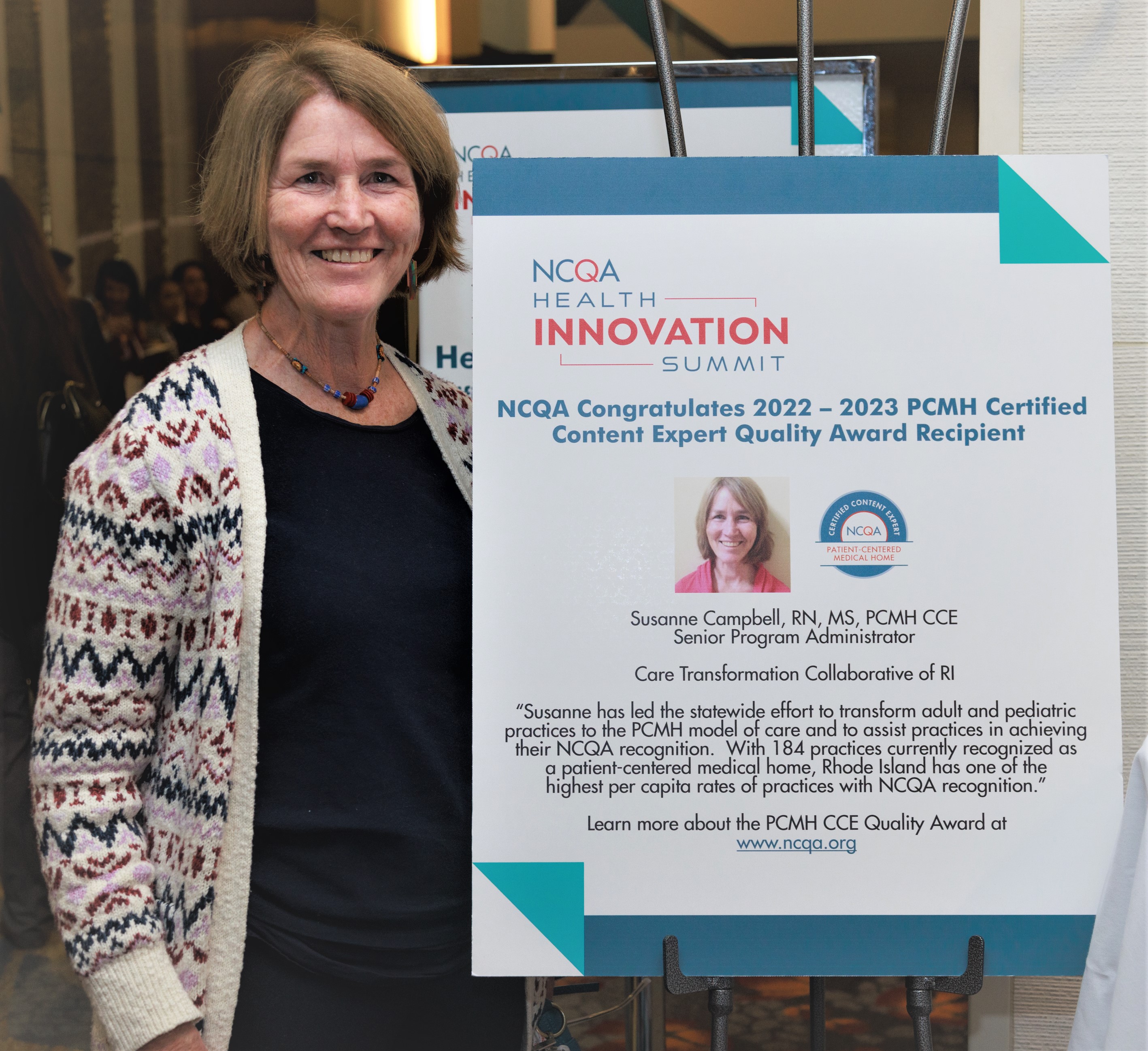 CTC-RI is proud to announce that Susanne Campbell, RN, MS, PCMH-CCE, CTC-RI Senior Program Administrator has been awarded as national 2022-23 PCMH Certified Content Expert supporting NCQA-Recognized PCMH practices.
Susanne was recognized at the NCQA annual conference for her significant contributions toward practice transformation resulting in practices achieving NCQA PCMH Recognition and for her in-depth knowledge, experience, and performance with NCQA PCMH program standards, guidelines, documentation, and the Recognition process. With 184 practices currently recognized as a patient-centered medical home, Rhode Island has one of the highest per capita rates of practices with NCQA recognition.
The NCQA Committee also recognized what we already know about Susanne, a "positive, goal-oriented team player, coach, and advocate." It brings CTC-RI immense pleasure to have Susanne as part of our team. Congratulations, Susanne as you continue to grow and achieve new heights of success!
Let Susanne's work reflected below continue to inspire us as we work toward the common goal of transforming primary care in RI. 
For 9 years, Susanne has led the statewide effort to transform adult and pediatric practices to the PCMH model of care and to assist practices in achieving their NCQA recognition. With 184 practices currently recognized as a patient-centered medical home, Rhode Island has one of the highest per capita rates of practices with NCQA recognition. To accomplish the enormous task, Susanne received her CCE in 2014, brought NCQA speakers to Rhode Island to educate our primary care practices about NCQA and encouraged the nurse care managers and practice managers to become PCMH Certified Content Experts. In addition, she established a team of practice facilitators who provide onsite support for practices to develop policies, procedures and workflows for implementation of the PCMH model and to facilitate quality improvement initiatives using the PDSA rapid cycle improvement model.
Susanne worked internally to develop a data management and visualization system so that CTC-RI could collect, present and use data together with practice-developed performance plans and outcomes which are shared at quarterly "best practice" meetings. Shared learning has become a hallmark of the RI success story.
Susanne worked closely with the Office of the Health Insurance Commissioner to conduct an audit of practice care management and care coordination capabilities. This validated OHIC criteria, used in conjunction with NCQA recognition, is now the basis for approving practices for ongoing supplemental payments from the Commercial health plans and Medicaid (for pediatric practices) on an annual basis.
Susanne regularly presents at local, regional and national meetings to share our successes, challenges and lessons learned and has presented at numerous PCMH Congress Annual Meetings around building team capacity through such strategies as integrating community health teams and behavioral health as well as successfully using telehealth to improve care. Susanne is always looking to see what others are doing and what we might be able to learn from other statewide transformation efforts. She brought in speakers to share their models of improvement looking at community health teams, women's health initiatives and health equity and then assisted RI with implementing these strategies.
Susanne has partnered with the RI Department of Health (RIDOH) on patient-centered medical home quality improvement initiatives for improving clinical care (such as diabetes and heart disease, asthma); improving transitions of care (such as youth transition from pediatric to adult primary care), improving behavioral health screening for prenatal patients and using pharmacists to reduce avoidable ED/Inpatient utilization. With funding from RIDOH and health plans, Susanne creates opportunities for primary care practices to participate in patient-centered medical home quality improvement initiatives by developing "Call for Applications". Leveraging our practice facilitators to provide onsite technical assistance, RI primary care practices (both adult and pediatric) have developed increased competency and improved care using the care team and a data driven population health approach that incorporates what matters to patient, families and the practice.
COVID-19 pandemic presented many challenges for our patients, families and primary care community. Now more than ever, practices needed and appreciated the support of having an established learning community and a strong patient-centered medical home foundation that could be leveraged in the midst of the crisis. Two examples come to mind that demonstrate Susanne's skills at using her CCE PCMH competencies around improving access to care: taking a population health and risk stratification approach as well as developed and implemented quality improvement initiatives to help address the public health crisis. Her commitment to the principles of supporting the patient-centered medical home guide all her work.
Improving Pediatric Immunization: Over a 6-month period, Susanne was successful in implementing an immunization performance improvement plan with 46 primary care practices that included the key components of 1) leadership, 2) data management, 3) performance improvement/practice facilitation, and 4) financial assistance. Susanne formed a Core Planning Team and worked with RI Immunization Registry (KIDSNET) to provide practices with monthly Kindergarten and 7th grade immunization readiness reports and lead screening rates. Practices were additionally asked to reach out to families to listen to their concerns about bringing children into primary care practices and to develop performance improvement plans/strategies to address family concerns. Practice targets were set for achieving 90% of pre-COVID practice performance rates. With resources (practice facilitation, "best practice" sharing, performance reports and financial assistance), practices met and exceeded this goal.
Diabetes Health Equity Challenge: Susanne, working with RIDOH, brought in national experts (WE in the World) to create an opportunity for 2 teams to support their communities during the COVID-19 pandemic. Teams were asked to consider the needs of people with diabetes in their place-based communities. The primary care practices and the community-based organizations (Health Equity Zones) first needed to ask 7 people with lived experience to tell the stories of their experiences and what they thought was needed to address their immediate clinical needs and the underlying conditions in the community that would solve the health equity issue for everyone with diabetes. Teams that had not previously worked together stratified the population to identify who was at highest risk of not thriving, and using the Pathway to Population Health framework, developed, and implemented action plans to improve the health and well-being of people in need and improve well-being of places in which they lived. Both teams identified access to healthy foods as a primary concern. Strategies such as collaborating with food policy councils, farmers markets, and food delivery systems were implemented. This work, now called Rhode to Equity, has expanded to include 6 primary care / community-based organization teams that are working on taking a medical neighborhood approach aimed at addressing clinical and equity issues including housing, food insecurity, asthma and behavioral health.